Aggarp is a scenic hub for outdoor adventure. The farm offers 12 cosy cottages, situated close to lake Östra Lägern, and can accommodate up to 52 people at a time, with own household or catering. Feel at home in the enchanting wilderness of southern Swedish highlands. Individual or group bookings are available. If you want to see the prices in SEK you can click below
Indulge in the freedom of leisure or recreational activities, such as canoeing on lake Östra Lägern discovering 52 charming islands. You can also enjoy bathing on a private beach, fishing, play a game of soccer, volleyball or table tennis. Alternatively, warm up and rejuvenate in the sauna, throw a party at our pub or arrange a party for your group. Aggarp allows business professionals to conduct conferences and courses.
Group bookings are available see activities and prices below in Euro.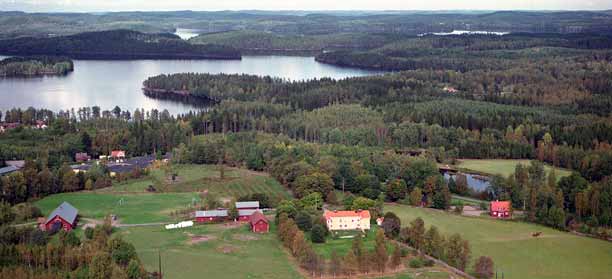 Some facts about Aggarp and some examples of activities that you can do on Aggarp:
* 52 beds in 12 different houses, community kitchen and diningroom, 4 smaller kitchen, 9 toilets and showers, Internet-posibilities with broadband.
All equipment is provided for bigger groups for the following activities :
* Canoeing: 5 x canoes free+ life jackets (More canoes can be rented)
* Kayaking: 5 x kayaks + life jackets (More kayaks can be rented)
* Boating: 2 x rowingboats + life jackets
* Bicycle's 5 x (More bicycles can be rented)
* Fishing tackle (Can be rented, after showing fishing license)
* Sauna: Firewood provided
* Soccer court: Ball + coloured vests for teams provided. (Fee if you use soccer shoes with studs)
* Volleyball court: Ball provided
* Tabletennis: Ball and rackets provided
* Gym and athletics equipment
* Badminton: 2 Rackets and ball provided
* Petanque: Sets for up to 10 players
* There are private horses on Aggarp. But horse riding events can be arranged 10 km away, ask for prices.
* Tennis: (700 meters away. Fee 30 SEK/Hour) 2 Rackets and ball provided
* Conference room: Projector for computer, free Wi fi, television and whiteboard.
*Own parties and celebrations can be arranged in the big Partyroom or in the small Pub.
* The Restaurant "Ryzätra's" in Rydsnäs (800 meters from Aggarp), can also provide with catering.
ACCOMMODATION DESCRIPTION
With 12 different cottages to choose from, we offer private, homely, fully furnished accommodation with own bathroom and kitchen. Feel cocooned in our cosy cottages in harmony with nature with internet provided.
We have 4 smaler kitchens and one community kitchen and dining room for groups up to around 50 persons.
We also provide your group with up to10 bathrooms, 9 showers, one sauna and one big washing machine.
Please consult the map below for further information regarding accommodation and leisure locations.
WEEK PRICES FOR GROUPS SUMMER 2019:
Groups up to 52 persons: 4900 Euro / Week
Groups up to 47 Persons: 4500 Euro / Week
Groups up to 40 Persons: 4000 Euro / Week
Including in price: Tax, electricity for light, warm water, kitchen, kitchen utensils, community houses, handicraft -tools, badminton, tabletennis, internet, 5 canoes, 5 kayaks, 2 rowingboats, life jackets, 5 bicycles, soccer field, volleyball court, gym and fitness equipment, sauna and firewood, possibillities to do a lot of other free activities in the big barn or outside, listed above and also below.
Questions and bookings: Jan Hermelin
Aggarps Gård
S - 570 60 Österbymo
Phone: 0046 (0)381 50157 or 0046 (0) 70 534 4353
Email: info@aggarp.se
SURVEY MAP OF AGGARPS GÅRD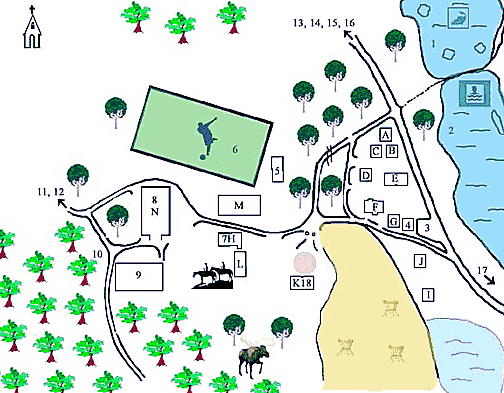 See below for explanation of letters and numbers on map:
BUILDINGS
A. 2 bedrooms, (3+3) 6 beds, 1 small kitchen, 1 toilet.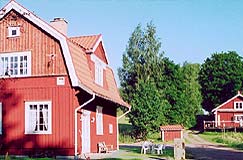 B. 1 bedroom, 3 beds, 1 storage room.
C. 1 bedroom, 3 beds.
D. 1 bedroom, 2 beds.
E. 1 bedroom, 4 beds, 1 toilet, 2 showers.
F. 2 bedrooms, (2+3) 5 beds, 1 toilet, 1 shower, big kitchen, tent in summer for dining providing space for up to 52 persons.
G. 1 bedroom, 2 beds, pub and veranda.
H. 2 bedrooms, (2+5) 7 beds, 1 toilet, 2 showers, 1 sauna for 12 pers., washingmachine, leisure space, horsestable.
I. 2 bedrooms, (3+3) 6 beds, 1 small kitchen, 1 toilet, 1 shower.
J. 2 bedrooms (2+7) 9 beds, 1 toilet, 1 shower, 1 small kitchen.
K. Mansion house Aggarps Gård, inclusive 1 appartment with 2 bedrooms,
5 beds, 2 toilets, 2 showers, 1 kitchen.
L. Storage house.
M. Barn for horses and for firewood.
N. 1 big meeting or partyroom. 2 toiletts, 2 showers, coldstorageroom,
2 big leisure spaces for basketball, tabletennis, badminton small Gym / fitnesstraining.
LEISURE ACTIVITIES AND OTHER LOCATIONS ON SURVEY MAP AGGARPS GÅRD
1. Fishing.
2. Swimming at the beach.
3. Bus and Car Park
4. Boule, petanque court.
5. Volleyballcourt.
6. Soccer field
7. Sauna.
8. Party or activityhouse for ex: Parties, bigger conferences, basketball, tabletennis, badminton small Gym.
9. Ridingground.
10. Runningtrack 2,5 km or 6 km. From September - to February can Nature - forestry or hunting-courses be arranged in Aggarps forests, and in cooperation with neighbourfarms.
11. Tenniscourt ( 700 m from Aggarp).
12. Rydsnäs church ( 900 m from Aggarp, suitable for choirs).
13. Lake Östra Lägern ( 600 m from Aggarp), 5 canoes, 5 kayaks and 2 rowingboats.
14. Beach at Östra Lägern (600 m from Aggarp)
15. Groceryshop and Restaurant / Catering in Rydsnäs ( 800 m from Aggarp).
16. Fishing in Östra Lägern 150 / SEK week ( size: 30 km2 and 52 islands ).
17. Connection to Östgötaleden and Smålandsleden hikeing trails ( 2 km from Aggarp)
18. Mansion Aggarps Gård, where the owner Jan Hermelin and his Family lives.